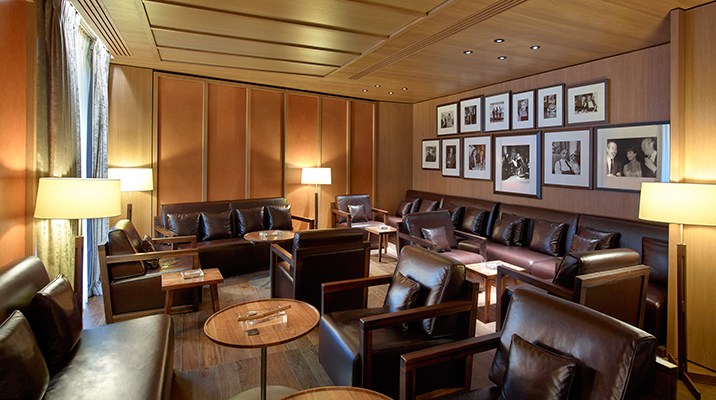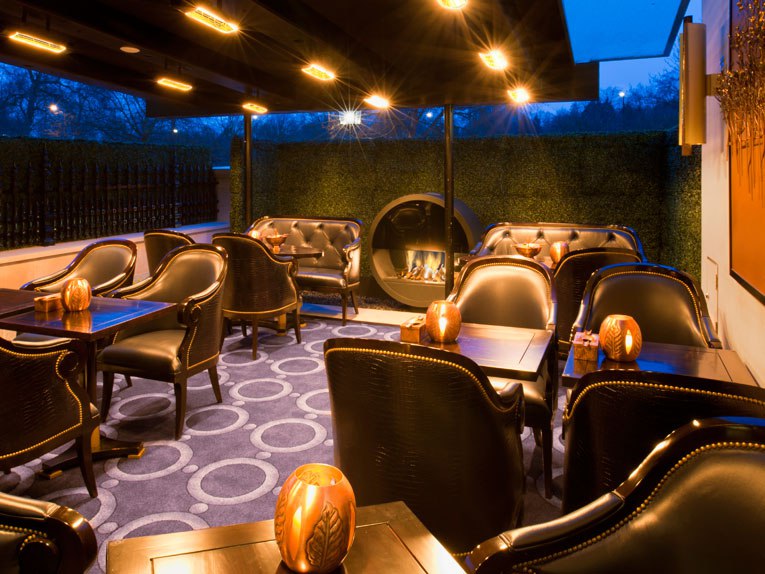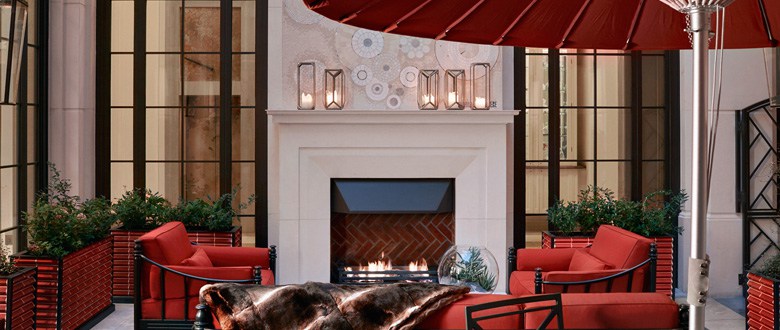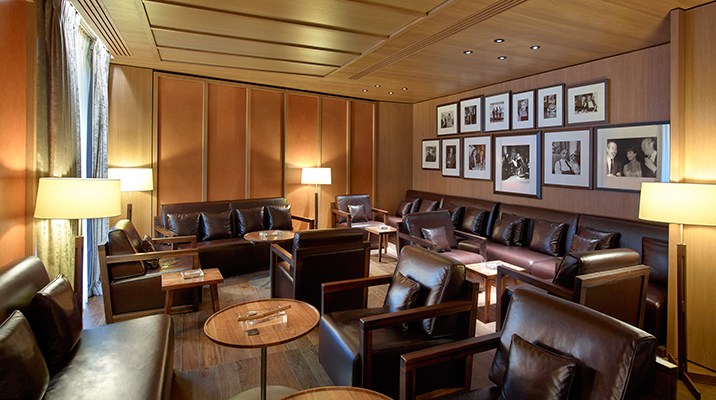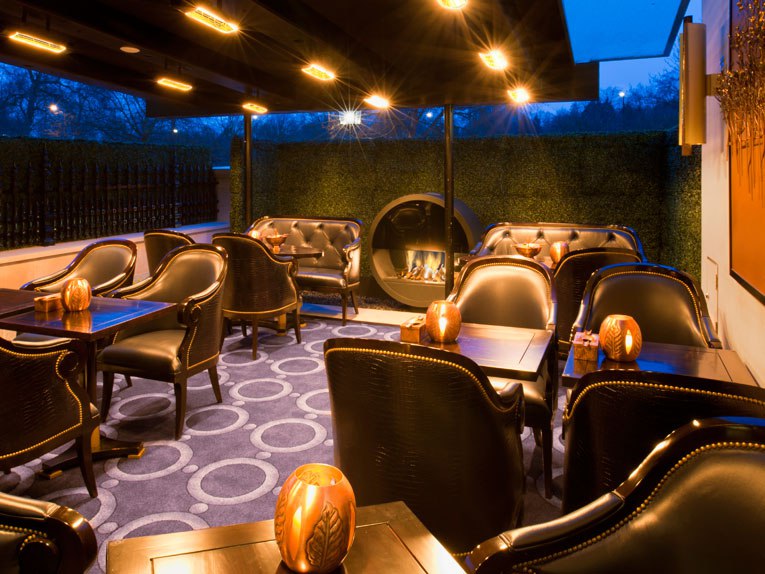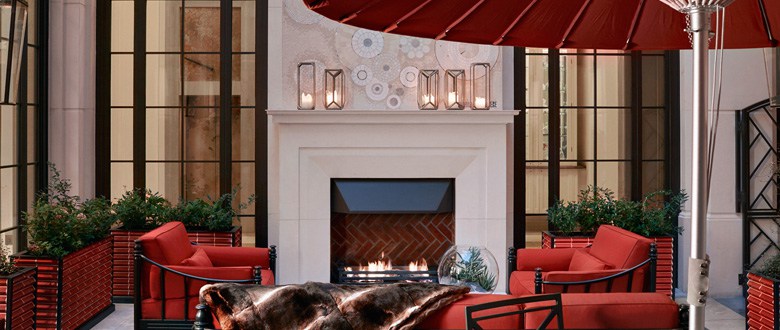 From the 1 July 2007, all workplaces and enclosed public places in the UK became smoke free, including pubs, clubs, bars and restaurants. However, many of these venues have built outdoor areas and house stunning humidor rooms such as The Wellesley and Bulgari Shop & Sampling Lounge
For more information on cigar venues in London download the Simply Cigars Cigar Venue App.
10 MANCHESTER STREET

Covered up smoking areas are awesome! With heated lamps and deep armchairs, it's pretty much as far as you can get from standing out in the cold. You could even meet your perfect woman here as they run special events that introduce the ladies to the cigars. Definitely order a Tobacco Road cocktail with rum and tobacco liqueur to go with your smoke.
Address: 10 Manchester Street Hotel, Marylebone, London, W1U 4DG
Phone: 020 7317 5900
THE MONTAGUE

They're well equipped for a long session here; with heaters, fine accessories, blankets and cushions under the awning, all of which should keep you warm as you smoke. They have books on cigars too, so you can turn up in your best tweed and make like you've been smoking them forever. If you really want to splash some cash, you can try one of the rarest cigars currently on the market here – in the Cohiba Behike range. Their cigar terrace is actually dedicated to cigar smokers after 5pm, so leave the Marlborough Reds out of it.
Address: The Montague, 15 Montague Street, Bloomsbury, London, WC1B 5BJ
Phone: 020 7637 1001
BOISDALE, BELGRAVIA

Revelling in plaids and tartans, with antlers and boars' heads on blood-red walls, Boisdale relishes its Scottish heritage – no wonder it's a top choice for sipping a few drams. But there's more to this fun-loving venue than malt whisky – owner, bon viveur and self-appointed 'laird' Ranald MacDonald also has an eye for good food from his homeland.
Dunkeld smoked salmon, Buccleuch chicken, well-aged Aberdeenshire beef, haggis and more besides appear on a wholesome and well-crafted menu that plays it straight – expect top-notch steaks with "excellent chips", venison, Hebridean crab and Shetland mussels with linguine, plus some serious wines to boot. Otherwise, it's all about entertainment and "good convivial company", with the bonus of live jazz, cocktails in the upstairs bar and a terrace for those who enjoy premium cigars. Click here to hear more from Ranald MacDonald or read their own magazine Boisdale Life.
Address: Boisdale, 15 Eccleston Street, Belgravia, SW1W 9LX
Phone: 020 7730 6922
BOISDALE, CANARY WHARF

Boisdale of Canary Wharf is a two-floor venue overlooking Cabot Square which comprises a restaurant, four private dining rooms, Oyster Bar & Grill with a terrace, whisky bar, Cuban Cigar Library & shop and live music venue.
The second floor restaurant is decorated in the instantly recognisable Boisdale signature look of lacquer red and dark green walls hung with eclectic and original artwork. It is here that one can find the whisky bar, a 12 metre long 'amber wall of liquid gold' that holds over 1,000 bottles of malt whisky. One floor below is the art deco-inspired Oyster Bar & Grill which benefits from an awning-covered heated cigar terrace complete with members-only area. Four private dining rooms are available, accommodating from 12 to 40 guests.
Address: Boisdale, Cabot Place, Canary Wharf London, E14 4QT
Telephone: 020 7715 5818
THE CORINTHIA HOTEL LONDON GARDEN LOUNGE

The Corinthia Hotel is nothing if not impressive. Two restaurants, a handful of glorious suites and a beautifully glamorous interior, it's the haunt of choice for celebrities wanting to avoid the limelight that staying in Mayfair invariably draws. Now, if there happen to be any cigar lovers amongst the Corinthia's a-list guests – we're not sure where regular guest Will.I.Am stands – you'll be able to find them in the hotel's garden lounge.
If anyone is wondering how to make a courtyard cosy, point them in this direction. Designed in collaboration with David Collins Studio (who else?), the outdoor space is a fusion of calming cream and terracotta and hand-made mosaics trailing to the roof. An outdoor fireplace, complete with armchairs and a canopy could place you in someone's lounge. The key to it all however is the Corinthia's bespoke humidor. Dark, luxurious and suffused with tobacco, the space houses a good number of fine cigars, including the rare Partagas Sublime and 109. Complimented with a range of 15 different whiskies from the terrarium bar, there's nowhere better to spend a warm, lazy evening.
Address: The Corinthia Hotel, Whitehall Place, London, SW1A 2BD
Phone: 020 7930 8181
BULGARI HOTEL LONDON CIGAR SHOP & LOUNGE

Over in Knightsbridge, the Bulgari is all about extravagance. Dinner at hotel restaurant Rivea illustrates that well enough. Well, what else would you expect from an Italian jeweller? We were half expecting bejewelled serpents crawling along the walls. Fortunately what we found was a very decent martini at Il Bar and one of the most exclusive cigar lounges in London.
Edward Sahakian is a cigar legend, his eponymous emporium a pilgrimage for true idolisers of rare Havanas. Curated by Mike Choi, a contender for best UK cigar sommelier, there are examples in the humidor that you simply can't find anywhere else, including the fabled Davidoff 80 Aniversario. Once you've made your selection, whatever it may be, there's no need to head outside, with one of London's very few cigar lounges. Amateurs beware however; this is a humidor dedicated to the consummate connoisseur.
Address: Bulgari Hotel, 171 Knightsbridge, London, SW7 1DW
Phone: 020 7151 1010
THE WELLESLEY CIGAR TERRACE

Leather arm chairs, a roaring fireplace and a luxuriously carpeted floor, the Wellesley's Cigar Terrace certainly continues the town house feel of the main hotel, especially with the occasional flash of gold. Yet being bordered by a hedge and iron fence certainly add a touch of eclecticism to proceedings.
While one of the smaller cigar lounges, its size creates a sense of energetic intimacy, as full of conversation as curling wreaths of smoke. Its cigar collection too is more refined than many of the others, yet manages to balance range with exclusivity. They have the usual Montecristos and Cohibas, but also some rare, limited edition Bolivars set in reserve for the true connoisseurs. Match with one of the bar's classic cocktails and before you know it you can find yourself spending an entire evening in rapt indulgence.
Address: The Wellesley, 11 Knightsbridge, London, SW1X 7LY
Phone: 020 7235 3535
DUKES HOTEL COGNAC & CIGAR GARDEN

What goes better with cigars than whisky? Cognac. Or at least that's what DUKES Hotel seems to think. Sequestered just off St. James, the hotel certainly had its fair share of epicurean guests over the years; it was at DUKES' bar that Ian Fleming created the famous Vesper martini – shaken not stirred, of course. Yet more than anything, it's a haven which, if it wasn't a minute from Piccadilly, you'd assume was in some quiet West London neighbourhood.
It's a sort of sophisticated solitude, one which they have built into the very fabric of their cigar and cognac garden. With its curtains, mirrors, cushions and candles, if there wasn't a breeze you could quite easily be in someone's sitting room. But they'd be unlikely to have such a fine selection of cigars, or let you smoke them there and then. Complete with a range of cognacs to fit, if you're unsure about the best pairings (we're more used to whisky) feel free to ask. A more relaxed experience than some cigar lounges, why not follow a relaxed smoke with a martini?
Address: Dukes Hotel, 35-36 Saint James's Place, London, SW1A 1NY
Phone: 020 7491 4840
THE MAY FAIR HOTEL CIGAR ROOM

Everything about the May Fair bespeaks glamour, be it the restaurant, bar or various suites. However, when it comes to their cigar room, they've really outdone themselves. The stunning outdoor space balances cosy with elegant, wood and wicker meeting mood lighting befitting a Manhattan loft bar. This setting is everything you could ever want to elevate smoking a cigar to an experiential level.
Sample a range of stunning cigar-inspired cocktails or indulge in the Cigar Room's Rare and Fine Collection and select an Armagnac, cognac or exquisite whisky to go with your cigar of choice. And oh what a choice there is. Cohiba, Montecristo, Partagas, Trinidad, Bolivar, the list goes on and on. All the finest cigars are represented, complete with some exceptionally rare examples. The sheer range begs extended tasting sessions, making the monthly cigar and spirit masterclasses a necessity for experienced cigar enthusiasts and newcomers alike.
Address: The May Fair Hotel, Stratton Street, Mayfair, London, W1J 8LT
Phone: 020 7769 4041
THE GARDEN ROOM AT THE LANESBOROUGH

Guests are invited to make their choice from the sizeable collection of Cuban and pre-Castro cigars in The Garden Room's celebrated walk-in humidor, and take a seat in exclusive surroundings, perhaps with a Cognac from the bar's extensive selection, which includes bottles from as far back as 1770. The Garden Room at The Lanesborough is the first and most luxurious Cigar lounge in Knightsbridge – a destination for cigar connoisseurs from around the world.
Address: The Lanesborough, Hyde Park Corner, London, SW1X 7TA
Phone: 020 7259 5599